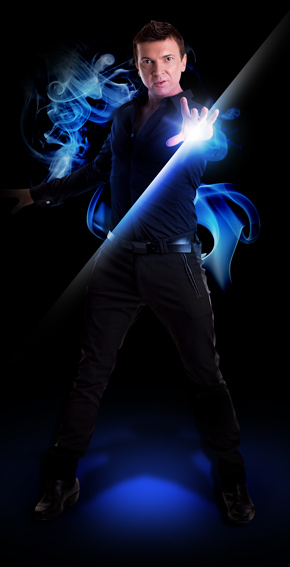 Michael Boyd is internationally recognized for his cutting edge illusions, dramatic presentations and his personal touches to the classics of magic, from large sale illusions to intimate close up magic his personality supersedes the incredible effects he presents.
His performances have taken him around the globe from Casinos to cruise ships, Theaters to 5 star Hotels his in demand style of performance breaks all language barriers.
Born in Melbourne Australia, Michael first became interested in magic after discovering his grandfather (Stanley Boyd) was a magician. At 13, Michael joined the Young Magicians Magic School in Melbourne, where he learned presentation and stagecraft skills, which were put to practice in shows at fetes, birthday parties and nursing homes.
After finishing high school, he toured with female magician Christine Hutchinson, performing three shows per day and learning about life on the road. The experience was invaluable and later enabled him to travel to Switzerland for the World Magic Conference FISM (Federation of International Society Magicians).
In the new Millennium, Michael was invited to star at the Reef Casino in Cairns for the production of "Tropical Fantasy" – the 6-month contract was extended to over 2 years.
In 2004 Michael starred in the Conrad Jupiter's Casino multi million dollar stage Spectacular "Midnight Magic" the show featured a host of International artists and dancers – he performed over 500 performances in the extended run, to rave reviews.
In 2010 he produced and created his own magical production show "Mystique" for Crown Casino in Melbourne, the spectacular production received rave reviews and has since played seasons at Jupiter's Casino in Townsville, Reef Casino in Cairns and the Athenaeum Theater in Melbourne.
Michael keeps busy developing new and exciting illusions and continues to present world-class magic and illusion shows around the world.